The TAPS ACROSS AMERICA tribute debuted on national television in 2020 when CBS news "On the Road" correspondent Steve Hartman teamed up with retired Air Force bugler Jari Villanueva, founder of TAPS FOR VETERANS and TAPS ACROSS AMERICA. The two men invited buglers and musicians to sound Taps from their front porches all at the same time as a part of the TAPS ACROSS AMERICA tribute. The massive, simultaneous event replaced picnics, parades, and other celebrations cancelled due to the pandemic.  
The response was overwhelming: More than 10,000 musicians joined in a nationwide salute to remember fallen service members. TAPS ACROSS AMERICA brings the country together, offering everyone an opportunity to Honor, Remember and Reflect in the true spirit of Memorial Day.  
The annual TAPS ACROSS AMERICA tribute is scheduled annually for Memorial Day, bringing together thousands of musicians to sound Taps at 3 pm (local).
There is no cost to register to sound Taps during the tribute.
We encourage all musicians to participate by sounding Taps at 3 pm on Memorial day. 
We provide a repository of videos made by our participants on our YouTube channel. Instructions for uploading are provided once you register.
You may sound taps at any location you feel is appropriate. Your front lawn, back yard, a local cemetery or Veterans organization are some places that our participants have performed in the past.
Read our FAQ
Donate
Help us maintain this website and sponsorships. Any amount helps. You can easily and securely donate with a credit card through PayPal.
Shop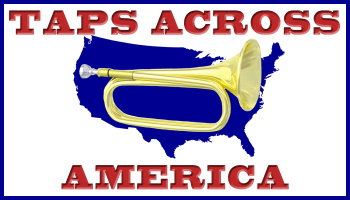 Videos
Photo Gallery